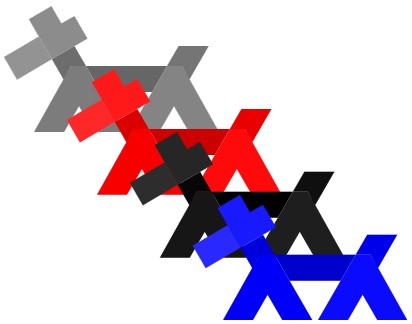 Stick Dog Pedigrees is a software application intended for use by dog breeders to manage breeding programs. It allows you to do the following:
Create, edit, and manage information about dogs in a single view - the Dog Directory. The following information about each dog may be recorded in the directory:

General information including formal name, titles, whelping date, breeder, and owner
Traits including conformation traits measuring adherence to breed standard
Dam and sire (ancestral relationships)

View the pedigree for a dog in any one of three graphical representations - Traditional Chart, Stick Dog Color Chart, and Symbols Chart. The application uses information stored in the directory, including ancestral data, to render pedigrees on demand. This capability saves you time and effort because dogs appearing in multiple pedigrees are entered only once into the directory and reused automatically by the software as and when needed to render a pedigree.
Create breeding plans more easily by leveraging trait information stored in the directory together with the Stick Dog Color Chart and Symbols Chart functions.
Expand your directory by utilizing the import/export feature to exchange pedigrees with other breeders.
Create hardcopy printouts of the Traditional Chart, Stick Dog Color Chart, and Symbols Chart for any dog. The Traditional Chart may be used to print out unofficial pedigree certificates.